A tweet by Washington – based Human rights lawyer Arsalan Iftikhar asking for suspension of US president Donald Trump's Twitter account for sharing fake anti-Muslim videos has attracted an overwhelmingly response.
Mr. Iftikhar evoked more than 18000 retweets and 33000 likes.
Dear @Twitter…

By tweeting Anti-Muslim conspiracy theory videos which are fake…@RealDonaldTrump has violated your terms of service by jeopardizing the safety of 7 million American Muslims & you should suspend his account…

Signed,
The World pic.twitter.com/5AO4l25CHP

— Arsalan Iftikhar (@TheMuslimGuy) November 29, 2017
US president Donald Trump retweeted three anti-Muslim videos from a known anti-Muslim far-right 'Britain First' deputy leader Jayda Fransen.
In her first video, she claims that a migrant Muslim is attacking a young Dutch man on crutches in Netherlands.
But Dutch government denies her claim.
A spokesperson from the Dutch Public Prosecution Service told the BBC that the person arrested for the attack was born and raised in the Netherlands and was not a migrant.
Dutch Embassy in Washington DC also denied Jayda's claim on Twitter.
.@realDonaldTrump Facts do matter. The perpetrator of the violent act in this video was born and raised in the Netherlands. He received and completed his sentence under Dutch law.

— Netherlands Embassy 🇺🇸 (@NLintheUSA) November 29, 2017
The second video shows a man smashing a statue of the Virgin Mary.
According to BBC, this video was uploaded to YouTube in 2013.
The man in the clip says: "No-one but Allah will be worshipped in the land of the Levant," which could place him in Syria.
But no one knows who this man is and what his religion is.
The third video originates from the riots that took place in Egypt in 2013, and shows a man being pushed from the top of a building in Alexandria.
BBC said, In 2015, those involved in the incident were prosecuted, and one man was executed.
Here are three videos tweeted by Jayda and Retweeted by Trump.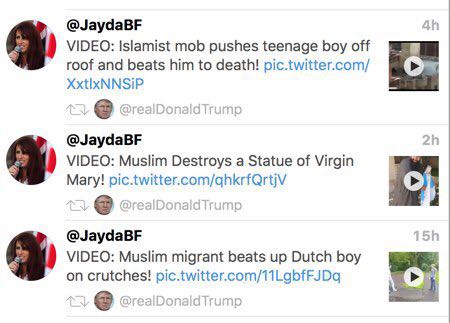 Jayda Fransen, Who was convicted by a British court for harassing a woman wearing a hijab, is banned from entering mosques in the UK.
Together with other activists from the far-right group, Fransen took part in attacks on mosques.
Thomas Mair, who killed British MP JO Cox, is reported to have shouted; Britian First' as he kicked mother of two before shooting and repeatedly stabbing her.