LAHORE –  Pakistan may have won the T20 game series against West Indies, but that should not be taken as a sign of relief.
The Green Shirts have the real concern in their past ODI performances, and they have no option but to win this series in order to improve ranking before the Champions Trophy.
Taking a look at Pakistan's announced ODI squad against Windies, you get nothing but disappointment.
Azhar Ali might have stepped down as a captain, but there are players who needed to be dropped ahead of Azhar's sacking.
We have listed down a few players from the current squad who deserve no more chance in ODI squad, as Sarfraz Ahmed has woven to build up a young squad in both formats.
Mohammad Hafeez
The self-proclaimed Professor is the root cause of Pakistan's problems. He can't bat, can't take wickets and forgets to field when a certain Mohammad Amir is bowling.
Such players are discovered and dismissed very early in their careers but in Pakistan, they get to lead the side, they are treated as royalty and are given chances when there are many others waiting for the opportunity to do their country proud.
Hafeez is a bad influence on the youngsters as well and the dip in the performance of Imad Wasim – who bowls with sunglasses now – can be seen as the result of his influence. Save Pakistan Cricket, kick Hafeez out!
Wahab Riaz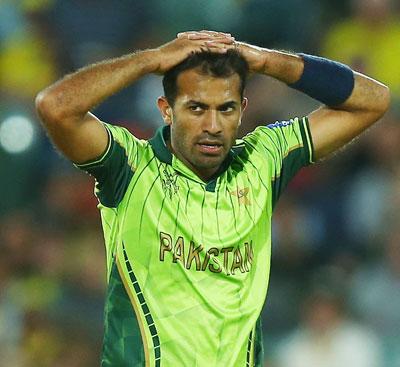 In over his 100 matches for Pakistan, Wahab Riaz has performed well in just 2 or 3! He has been hit for 90 runs in an innings on more than one occasion and was part of the suspected players who roamed around UK with Mazhar Majeed. Why is he playing for Pakistan is a mystery because he is neither the
Why is he playing for Pakistan is a mystery because he is neither the best-left arm quickie nor the one in the top 3. Even in the T20s. he was smacked all around the park when young guns were restricting the hosts.
With Mohammad Amir back in the side, it's time to rest Wahab Riaz for good because he will only disappoint in the limited overs format as he thinks that bowling fast is the answer to everything.
Kamran Akmal
The former wicket keeper and highly useless fielder shouldn't be in the side because that stops a deserving youngster from progressing. Everyone knows the potential of Fakhar Zaman but he has to bat down the order to compensate an opening batsman who will only score when many factors favour him.
He may have scored runs in the T20 series but in ODIs, its centuries that matter, not could-have-been-a-century. He might have been in excellent form for Peshawar Zalmis but this is neither PSL nor the ground is in UAE!
Ahmed Shehzad
Make him act and he will shine; make him bat and he will fail unless it's the last match of the series. That's Ahmed Shehzad for you; the batsman who has disappointed more than made the spectators happy.
He thinks after the ball is past the bat and that's exactly how he will react when he is dismissed in the one-dayers. He might even blame the collision in the T20 series for his bad performance but one thing is certain – his days are numbered and he must quit for someone more responsible and deserving.
Absence of deserving candidates
Rumman Raees bowled better than the huffing puffing Wahab Riaz and impressed with control on his accuracy; he should have been in the ODIs but the wise men in Lahore believe Wahab Riaz will repeat the heroics of the 1940s … I mean 2011 and 2015. Neither is this the World Cup nor he is on top of his game – he shouldn't have been selected in the first place and the coaching staff should make use of his speed to send water bottles and towels with him, not the ball. Junaid Khan bowled better than him in Australia and he should replace Wahab, who should concentrate more on his SnapChat career as his future seems bright there!
---
The Article Originally Appeared in Samaa News