SALVADOR – Attention, World Cup hopefuls: The German footballing machine is fully operational and firing on all cylinders.
In a high-profile World Cup group stage clash of teams ranked in the top five of the latest FIFA rankings, Germany throttled Portugal 4-0 at Arena Fonte Nova in Salvador on Monday. The resounding defeat was the heaviest ever suffered by Portugal at the World Cup, according to ESPN FC
The man of the match for Germany was striker Thomas Muller, who netted the first hat trick of the 2014 World Cup in the rout. The 22-year-old who plays for Bayern Munich in Germany's Bundesliga now has eight World Cup goals in seven career appearances. When not scoring goals against Portugal on Monday, Muller found time to be on the receiving end of a headbutt that earned Portugal defender Pepe a red card in the 37th minute of the first half. Already trailing 2-0 when Pepe was sent off, Portugal struggled to suppress the Germany attack when reduced to 10 men.
Germany, a semifinalist at the 2010 World Cup, opened the scoring in the 12th minute after Germany forward Mario Gotze was pulled down by Portugal midfielder Joao Pereira in the penalty area. The referee pointed to the spot and Muller clinically delivered his team the early 1-0 advantage.
That advantaged was doubled in the 32nd minute when Mats Hummels got his head to a corner kick from teammate Toni Kross.
Already trailing 2-0, Portugal's hopes of a rally were largely snuffed out just minutes later when Pepe and Muller got tangled up. With Pepe seeing red in the 37th minute, Muller and Germany saw even more space on the field. Muller notched his second goal of the match shortly before halftime and would complete his hat trick in the 78th minute.
While the Germany attack made an early display of its potency, Portugal failed build sustained momentum with Cristiano Ronaldo. The Real Madrid star got off seven shots but was unable to find the back of the net.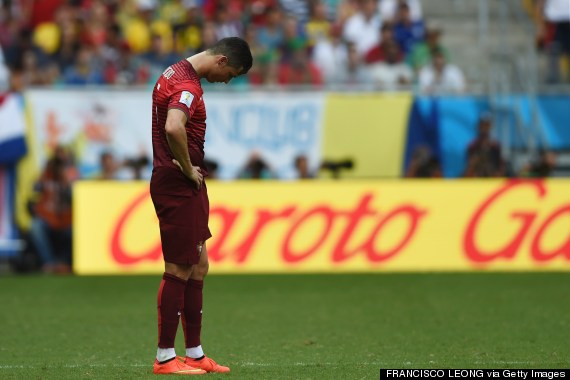 The result puts Germany firmly in control of Group G and puts greater pressure on Portugal to take maximum points from the United States and Ghana in its remaining matches in the group stage. Adding to Portugal's woes, Pepe will not be available against the United States due to the red card and Fabio Coentrao, who was forced to leave the game against Germany with an injury, could be out as well.